The interface for most of Azavista's modules is organized in a list view, quickly and easily letting you create, manage, and search the items relevant to a module.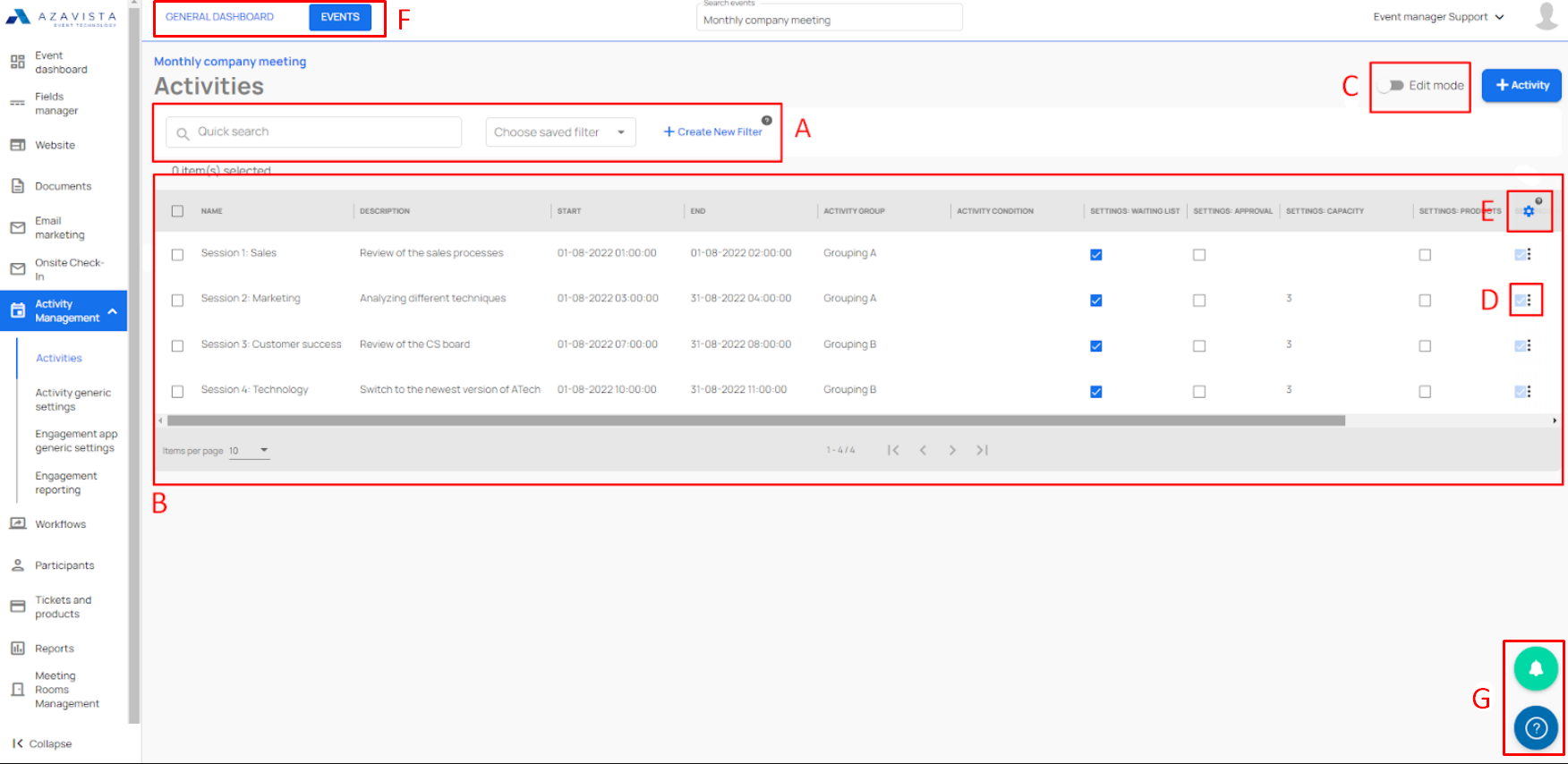 A. Search: The Search feature lets you quickly search through the items of the module. You can type the name of the item, or filter them with fields to display only some of them.
B. Overview list: The overview list is the focal point in almost all modules, it is where you will find all of the existing items of a module. You can click on an item to enter its detailed view - Which provides you with more information about a specific item.
C. Edit mode: The Edit mode lets you update the fields (i.e. the data) of the items directly from the overview. Once enabled, click on any of the items' fields to start editing them.
D. The Actions menu: The Actions menu lets you operate additional processes, such as duplicating, archiving, exporting, or updating items.
E. The Overview columns: The Overview columns allow you to decide which fields you want to display in the module's overview. You may, for example, decide to display or hide the "Description" field. The data is not erased when you hide a field from the overview, it can still be found in the item's detailed view or be added back later to the overview. You may also resize each column by clicking and dragging the edge of the column ( | icon)
F. The General dashboard & Events buttons: These two buttons let you quickly go back to Global level. The General dashboard acts as Azavista's homepage, and the Events module is where you will find all of your existing events (and where you can create them).
G. The What's new & Help center buttons: The "What's new" interface allows the Azavista staff to communicate with users, for example to announce updates made to the platform. The Help center is where you will find all the documentation related to Azavista and where you can directly contact the Azavista customer support staff.